Dr Kemp English
   
Kemp English is one of the gems of the organ concert stage. Although based in New Zealand, he is much in demand as a solo organist, collaborative pianist, and specialist fortepiano exponent worldwide - and he relishes the opportunity to work in a diverse array of styles and periods. His solo CDs include the Stormin' Norma trilogy on the magnificent Dunedin Town Hall organ, Schwammerl, and Kemp English at the Fortepiano, in addition to several discs with violin duo partner Robin Wilson which appeared on the DECCA label with Universal Music.
He has been nominated for 'Best Classical Album' in the NZ Music Awards and features regularly on Radio New Zealand, the ABC, BBC Radio, Classic FM UK and USA radio networks. He has performed on TVNZ and was featured in the popular American cable television programme 'The Most Extreme'. He is a freelance showman who tours Australasia and Europe extensively as both a solo and collaborative performer.
He is an honours graduate of the prestigious Royal Academy of Music in London and later completed a Master of Arts in Music Performance at the University of York. In 2001 he was elected an ARAM, in recognition of his distinguished performing career. After a period as Executant Lecturer in performance at the University of Otago, he made the decision to concentrate on his increasingly hectic performing and recording career. In 2013 he gained a PhD from the Elder Conservatorium at the University of Adelaide for his groundbreaking Koželuch studies which culminated in a 12 CD set of world première recordings of Koželuch's 50 solo fortepiano sonatas. These are currently being released worldwide by Naxos on their premium Grand Piano label. 
With Organ2go Kemp can now offer solo organ concerts in practically any venue in New Zealand. His state-of-the-art three manual digital organ is a tremendously versatile instrument, realistically recreating the sounds of English, French and German Cathedral or Town Hall pipe organs. With the power to fill a hall in a solo concert, or accompany any sized choir, this instrument offers a stunning musical experience. Those skeptical about organs, and digital organs in particular, will be blown away by this instrument; particularly in the hands of Kemp English.
So if it's a stunning organ and organist you need for a solo performance, wedding, choir concert, or other important event, Organ2go can provide the whole package anytime ... and almost anywhere.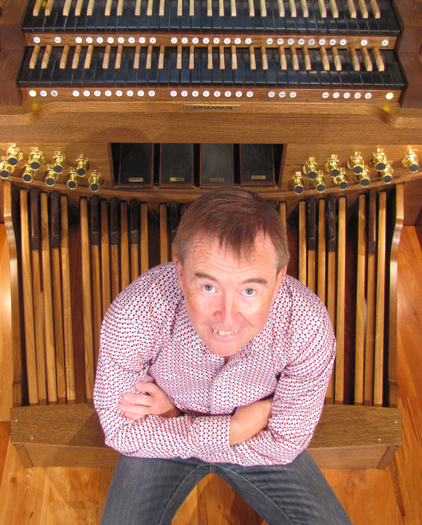 "Stunning performance! Kemp English's passion for performance created an instant connection with the audience. The showmanship of this classical musician was captivating. Definitely one of the best concerts I have ever been to!"      (Nelson Mail)
"English is a top-notch musician" (New Zealand Herald)
"I don't think I have ever been to a concert where the performer has had the whole audience in convulsions of laughter between items of outstanding technical and musical panache: every piece was played with impressive assurance and flair" (River City Press)
"Outstanding ... superlative playing" (MusicWeb International)
"English's playing is always engaging, often brilliant and sometimes electrifying" (BBC Music Magazine)