Solo Concerts
Kemp's solo concerts showcase a thrilling mixture of music based around his three hugely successful Stormin' Norma CDs (recorded on 'Norma, the magnificent Dunedin Town Hall organ), combined with contemporary organ music.
His critically acclaimed recordings have spawned an equally popular flurry of live performances at home and abroad. He has presented rip-roaring programmes to great acclaim across the world - from Montpellier Cathedral in the South of France, to Sydney Town Hall. Recently Kemp returned 'by popular demand' to Auckland Town Hall, after a full house in 2012, to present another concert in their prestigious series. Future engagements include a UK tour in 2015, USA and Hong Kong Cultural Centre concerts in 2016, and a charming request to perform two concerts on the Cavaill
é

-Coll organ in L

a Cathédrale de

Nouméa.
In his inimitable and chatty style, his concerts on both pipe and digital instruments present some of the organ's popular repertoire including Bach's famous Toccata & Fugue in D Minor, Dubois, the fairground-like Frenchman Lefébure-Wély, Scott Joplin, and the capitvating contemporary Norwegian composer Mons Leidvin Takle - amongst many others.
From an outdoor summer evening soireé concert, to a vineyard barrel hall, to a village theatre, or even the middle of a field ... the organ can be easily transported inside or played from the trailer which has gull-wing sides to create a concert stage anywhere.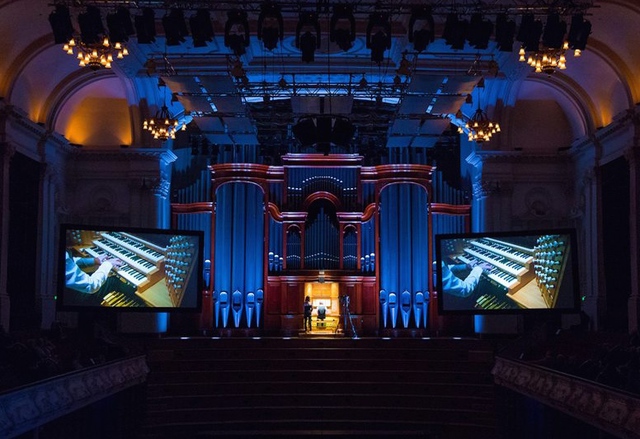 "Stunning performance! Definitely one of the best concerts I have ever been to." (Nelson Mail)
"Wow! We were blown away.

Kemp English's mission is to help more people discover the wonderful richness of music when performed on "The King of Instruments", the pipe organ. A full audience was left in no doubt about it; this is a regal instrument played by a superb master of his craft.

We were treated to an extraordinary recital of music performed on this fabulous digital organ, and for this he was accorded a standing ovation".
"Here is an irresistible combination of delightful music making on a heroic instrument." (The American Guild of Organists)
Click here for details of upcoming concerts in your area

Posted:

Saturday 19 November 2016